Posted by k.o on December 27, 2007 ,
No comment
Last night we made a little trip to the Westside to visit some friends of ours, and we had a few hours to kill, to chill and eat some dinner before we met them at a bar. Fortunately, the Westside of LA has a plethora of dining options that are vegetarian and vegan -friendly. Wooooot. We decided to go to Urth Caffé in Santa Monica, which is located on Main Street.
Check it:
Urth Caffé – Santa Monica!
Located at 2327 Main Street, (310) 314-7040, between Pico and Ocean Park, in the heart of Santa Monica's famous shopping district just a few blocks from the ocean.
Yeah so basically this place just quality, quality, fine dining all around, and the atmosphere is very not stuffy at all. It's a café, afterall. It's one of the best though…so swing by and stuff yo face! They have 3 locations in the LA area [Santa Monica, Bev Hills, WeHo], mainly in the more decadent 'hoods, but that makes sense because the food is equally decadent. HOWEVER! There is soon to be one in the downtown area!! I'm rootin for it, but as I understand it, word on tha streetz is that it is not entirely welcomed by all. After they eat there though, I'm sure the haters will soon be flocking there in droves. Word!
Okay, I really need to remember to carry around my digi cam with me…!! But these pictures from my cell phone cam must suffice for now. Look at that bakery shot!! Come on. How could you not want to have one of these places in your 'hood? Don't front.
On to the food…as I said before, Urth Caffé is not entirely a vegan restaurant, but is very vegetarian and vegan-friendly. Bless their hearts. I believe they are most known for their organic coffees and teas, but their food is not to be overlooked. The food is clean and amazing! So what I ordered was the Combo special, which was a bowl of soup along with half of any of their delicious sandwiches.
They don't just have one soup de jour mind you, they boast about 5 a day. Five!! What the..?! Well anyway, I ordered the Tortilla Soup, which was an entirely vegan soup. Oooo wee!
Man, was that tasty. They topped the already amazing soup with these seasoned tortilla strips, fresh avocados and red onions. Damn!! I need to really get me some good vegan soup recipes. Holler at me if you got any. Anyway, Urth's vegan Tortilla soup was very flavorful, yet also not too spicy. Perfecto.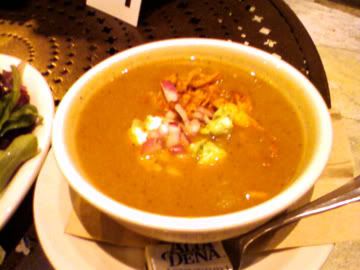 Look at that beaut! Oh, and for the half sandwich, I ordered the Grilled Vegetable sandwich with a mouth-watering pesto sauce. Have I told you before, that pesto makes me weak in the knees? Well it does. So now you know my kryptonite. Anyway. Not only did this delicious veggie sandwich taste wonderful and complemented the soup well, it also came with a side of fresh green salad. I love extras.
What a perfect meal, delicious and not overly filling. They know exactly how LA people do. My love got the Grilled Portabella Mushroom Panini which he said was also fantastic. That entree is good for vegetarians…sorry vegan brethren, it contains some goat cheese. Overall though, you all should really try and make it out to Urth Caffé, it's an awesome place for some sumptuous vegan and vegetarian dining!