Posted by k.o on December 29, 2007 ,
1 Comment
Wonderfulness [and also saliva] drops from my lips when I think of certain vegetarian and vegan Vietnamese dishes. Particularly, my two favorites are the vegan spring rolls and the vegetarian sandwiches. It just doesn't get any better than those two staples right there. I literally have crazy cravings for them, and often.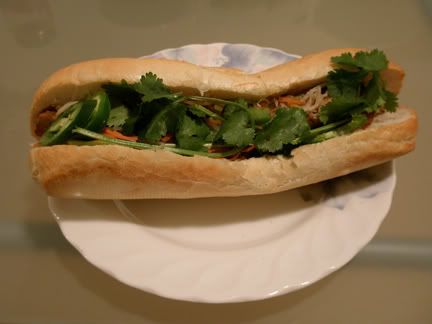 Oohhh…just look at that goodness. Also, beneath all of that cilantro is some of the most amazing fried tofu I've devoured in a cool minute. I'm eating well over here at So Delicious! and I'm happy to share the vegan and vegetarian gems that I find with all of ya'll. Dude, okay so today me and Vinh went to this crazy good Vietnamese restaurant that he touted as thee "best Vietnamese restaurant in LA." Word, word. And indeed it was.
Honestly, I couldn't even tell you the name of this wonderful seemingly hole-in-the-wall. There were so many Vietnamese words on the sign that it was hard to say what the name was. I'll go back and find out…or you can hit me up and I'll lead you there!
Anyway, while I was at the restaurant, I ordered the vegan spring rolls and this most AMAZING coconut juice. The spring rolls were hands down the best spring rolls I've tasted thus far in my life. Dear lord! I don't know how or why, but the taste was super authentic. What they did was used the usual rice paper, rice noodles, lettuce, cilantro, fried tofu [which was cooked in such a way that I've never tasted before] and…[what I think was the magic ingredient] was these mouth-watering fried onions! These onions gave the spring rolls such a nice, tasty and crispy addition that spring rolls usually do not have. And their peanut sauce they provided was off the chain!!! They topped the peanut sauce with the aforementioned fried onions as well.
Oh, I almost forgot to mention the sandwich that is so beautifully depicted above. Vinh was being very authoritative today and convinced me to order a vegetarian Vietnamese sandwich to go. Thank the heavens he did! Hot damn! I know I always say this…but really, that sandwich was one of the best ones I've tasted in my life! No joke. Unfortunately, this sandwich is not completely vegan due to the bread and I believe some of the sauce. But for all you vegetarians out there, this is one veggie sandwich not to be missed. This thing was HUGE, FRESH, tasty…and best of all…hella cheap!! I'm talkin' $3 a sandwich cheap. Whatchu gon' do now?!! I hope you will try and get some of these vegetarian delights as soon as I get you all the name of this joint. Wooooooo! I think I might just have to trek back down to Chinatown tomorrow. Peace be with you!