Posted by k.o on January 10, 2008 ,
2 Comments
'Ello there luvies. Oh yes, the title is true…another EASY VEGAN RECIPE comin' atcha!! Thank god for lazy vegan chefs like myself, no? Hey, I never claimed to be no Iron Chef here. Har har. Soooo! What I made for myself the other day was a couscous dish with sauteed veggies and garbonzo beans, drizzled with a sweet basil pesto sauce. E-Z, Breezy, beautiful delish vegan food. All made under 20 minutes. Hot damn!
So the magical ingredients are depicted above…sans the giant salt shaker. I do recall there was a few dashes of salt in there. Yeah, so how easy is that? I'm not joking. So simple, yet so gourmet [?]
Ingredients:
ground pepper
a few dashes of salt
basil
a packet of sweet basil pesto sauce
couscous
vegan butter
veggies of choice
garlic, minced
garbonzo beans [if you want some heartiness]
So clearly the star of the show is the sweet basil pesto saucey sauce sauce. I got this little packet of goodness at the aforementioned Co-op, which I blogged about earlier. That market is fantastico.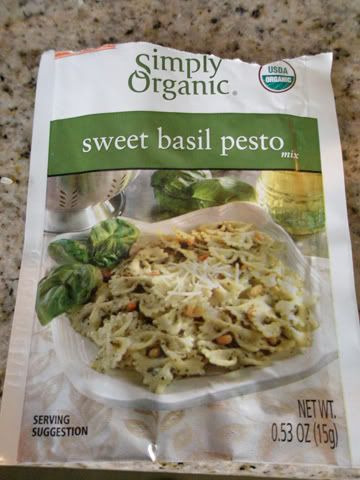 So you can basically cook this stuff up and put it on any dish that your heart desires. Fancy that! But this is how you actually bring the sauce to fruition, it's quite easy and it's typically written on most packets:
In a small saucepan, put a 1/2 cup of water and a 1/4 cup of olive oil into the pan. Put the entire content of the packet into the pan and bring to a boil, while stirring continuously. After it boils and everything is mixed well, turn off heat and it's ready to serve!
Watch the genius [laughable] at work: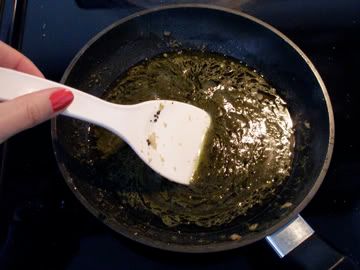 OOOOoooOOo darlin'…..Stir It Up! Oh yes I'm sure Mr. Marley would enjoy a delicious and peaceful dish like this one! Next, you need to prepare the beloved couscous. I LOOOOVE me some couscous. Also, the kind I get is from Trader Joe's…it's Whole Wheat couscous and there are a few ways of preparing it. Stovetop, baking [?] and lastly…the holy microwave. If I'm feeling fancy, I do it the stovetop way. But on days like this, I do it the microwave way…and to tell you the truth, it comes out just as yummy.
Take 1 cup couscous and 1/2 to 1 cup water and place in a microwave safe bowl. Add 1/2 tbsp. vegan butter and a dash of salt and heat for the designated amount of time on High. After it's done, take a fork and fluff it up and it's ready to serve!
Oh, yes and also, before or at the same time this couscous action is happening, take a small pan and quickly sautee your veggies/beans of choice. First I put a pad of vegan butter and the minced garlic and heat on Medium heat. Wait til you smell the aroma of garlic, and then throw on the veggies. In my case, it was asparagus, garbonzo beans, and spinach. Salt, pepper and basil to taste, while stirring the contents. After they are cooked to where you want them, place them on a bed of couscous and drizzle the sweet basil pesto sauce on top and voila!!! Another easy vegan meal…
Oh, P.S. for this particular meal, I also drizzled some soy cheese on top and added fresh avocado atop everything for extra flair. It was not a mistake. Please enjoy!!!