Posted by k.o on January 18, 2008 ,
1 Comment
So the other day, me and my boo went to Green Leaves Vegan in Los Feliz. Also, the weather has been so beautiful, we ate outside and it was really pleasant. Man, that place is so good! It has so many options to choose from, and a ton of dishes that are really hearty and that really hit the spot. I was craving me some faux-egg [tofu scrambled] breakfast burrito…and Green Leaves does the damn thang! I think it's my favorite place in LA to get a vegan breakfast burrito.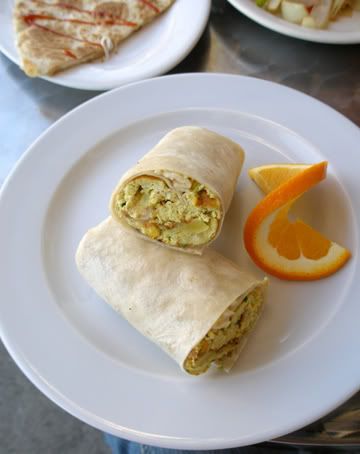 Ooo..the kind that I ordered was a scrambled tofu with a baked sweet potato pancake, topped with some soy cheese. Heavenly!! I really like it because the taste is so amazing, and there was a point in my life where I would eat breakfast burritos every damn day. Something about the heartiness.
We also ordered the vegan quesadilla….BOMB. You can order it with lentils [which is also completely savory] or with only soy cheese. We ordered ours with extra extra cheese!
Dude, it's wild. I kid you not, these types of dishes really make me totally stop all sorts of nostalgic cravings in their tracks! I think even if I ate cheese, I'd still prefer this vegan one! Man, and see that sauce on top? It's so awesome! It's actually a BBQ-ish sauce, which honestly I usually don't like, but for some reason, Green Leaves' is no joke!!
I understand if most of you guys can't make it out here to eat this amazing vegan food, so here are some quick fixin's for when you're hungry and craving this at home:
I always get the Ezekiel sprouted grain tortillas and the vegan soy cheese from Trader Joe's and cook one up real quick! If you're feeling lazy, you can just microwave it, but if not, it's great to pan sautee and/or grill it…it tastes that much better! And to top it off, I usually get the fresh bruschetta sauce that is also available at Trader Joe's. AHHH!!! I love it!! It's literally my favorite snack…I think I could eat that everyday and not get sick of it.
As for vegan breakfast burrito recipes, here's an easy one that might do you right:
INGREDIENTS:
+ 1/2 yellow onion, diced
+ 1/2 green bell pepper, diced
+ 1 block tofu, drained and pressed
+ 2 tbsp oil or margarine
+ 1 tsp garlic powder
+ 1 tsp onion powder
+ 1/2 tsp dried parsley
+ 1 tbsp soy sauce
+ 2 tbsp nutritional yeast
+ 1/2 tsp turmeric (optional)

Slice the tofu into approximately one inch cubes. Then, using either your hands or a fork, crumble it slightly.
Sautee onion, pepper and crumbled tofu in oil for 3-5 minutes, stirring often. Add remaining ingredients, reduce heat to medium and allow to cook 5-7 more minutes, stirring frequently and adding more oil if needed.
Wrap in a warmed flour tortilla with a bit of salsa for a breakfast burrito or top with soy or dairy cheese.
Enjoy!! Viva la vegan burritos y quesadillas…
Filed under :
Easy vegan recipies
,
easy vegetarian recipes
,
Los Angeles vegetarian/vegan dining
,
Vegan comfort food
,
Vegan Food
,
vegan food to-go
,
Vegan late night dining options
,
Vegan lunches
,
Vegan mexican food
,
Vegan recipes
,
Vegan sauce
,
vegan snacks
,
Vegetarian late night dining options
,
Vegetarian recipes
,
vegetarian snacks
|
Trackback URI
|
Comments RSS