Posted by k.o on February 6, 2008 ,
13 Comments
Oh, so I forgot to post a bunch of pictures from my vegan birfday dinner. Get ready to salivate hard core! Unless you're my parents…who unfortunately have not yet developed their vegan taste buds/palates. And when I say unfortunate, I mean it's unfortunate for them! According to the parental unit, the meal was deemed, "an acquired taste." Wilson and I, as seasoned vegan eaters, for the record, and in defense of this wonderful little restaurant, 100% hands down do not agree with them. The Green Temple in Redondo Beach is completely divine!
And we're not the only ones who think so. Peep the reviews! Anywho, everything was so fresh and QUALITY. Pictured above is the vegan quesadilla that Wilson ordered. It was filled with fresh avocados, tomatoes, lettuce and soy cheese, and the salsa was handmade. YUUMMM. Ya'll know how I feel about vegan quesadillas! Oh and next to the plate is the "Dragon shot" that I ordered. Apparently it's made from a blend of various Chinese herbs that are supposed to promote an overall sense of well being. Chchcheck it!
A mighty tall list of things to open eh? I did notice that I felt a little more pleasant afterwards though…and I do realize it could have been do to the placebo effect, but hey, whatevazzz. I was a happy camper. Here's my pops before he ate [er..rather, did not eat] his delicious meal:
Aw, look at how happy he was before eating! You should have seen him after he started to do so; a completely different story. Ha! Kidding, kidding, he wasn't that bad. However, in all honesty, he actually probably ordered the most fabulous thing on the menu. The dish was called "The Blue Plate" or something to that extent. But what it was was basically a vegan "meat" bunless burger, with sauteed mushrooms in a creamy gravy sauce, along side some yummy mashed potatoes covered with the same delicious gravy and broccoli. I was lucky enough to be the garbage disposal of that dish! I really didn't mind…it was soooo good. The "meat" tasted hearty and nutty, and so full of flavor! Here's a closer look:
Oh yeah!! Damn it's making me salivate again…anyway, as for the meal that I ordered, I was feeling rather low-key that night and went with a half avocado melt with a big bowl of lima bean soup. Hot damn, that was one of the tastiest avocado melts I've had! These vegan taste buds of mine don't lie…and don't get it twisted, they are fully developed too! Feast thine eyes upon it:
Pure goodness. My momz got the same thing as me too… check out the paparazzi style photo: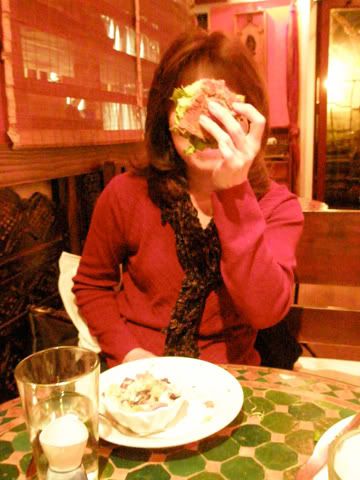 I don't know why she got all camera shy. Usually she's not, but my guess is that she didn't want to be caught eating at a vegan food place? I'm kidding. Anyway, it was a great meal. Great food, great atmosphere [very yogi-like], great vibes! Highly recommended!! And really, one of the BEST [and actually...only] vegetarian/vegan restaurants in the South Bay!! Redondo Beach in the hoooooouuuuuuse…
The Green Temple
1700 S. Catalina Ave., Redondo Beach, CA 90277
310-944-4525
www.greentemple.net
Hours: Tuesday, Wednesday, Thursday, Sunday 11:00 a.m. to 9:00 p.m.
Friday and Saturday 11:00 a.m. to 10:00 p.m.
Closed Monday