Posted by k.o on February 15, 2008 ,
4 Comments
Yup, that's riiiiight, African food! I know that sounds pretty vague and all encompassing [i.e. like which part of Africa??], but from the experience that I had the other night, it was pretty remarkable. In fact, it actually does serve various African dishes from all over the continent; they split up the menu by region. It was sooooo delicious [pardon my usage]…just really, really tasty stuff. And Ngoma is located right smack dab in the heart of the city…or rather, the Mid-Wilshire area, super close to the El Rey theater! So all you concert goers, you know where to hit up afterwards.
Wilson and I went, and neither of us had ever tried "African" food before. I didn't even really know what to expect. For instance, I couldn't even name a traditional African dish at all…how uncultured am I?! And more than that, I was totally perplexed as to how W even found out about this place. The front of the restaurant was so unassuming, making it almost imperceptible in this relatively bougie part of town.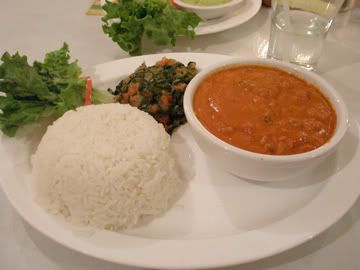 Well, our waitress was pretty forgiving. We told her it was our first time there and had no idea what we should order. She was really nice and helpful, and also was pretty decisive in terms of what she thought was the best things on the menu, which is effin' great for some indecisive folks like us. Ngoma also has a plethora of vegetarian and vegan friendly dishes! Cha-ching…score!!
I decided on the black eyed peas in a coconut milk sauce, which also came with some flavorful collard greens, sauteed with some diced tomatoes and onions and a bed of white rice. Hot damn!! It was such a good, rich and creamy, stewed dish. The flavor was so perfected, so complex! This is the kind of dish you want to be eating on a cold night. I guess you could choose a side of either the collard greens, or fried plantains, which sounded pretty yummy too. Next time I suppose? They also had some other great vegetarian/vegan options that I'm excited to try for next time:
CHAPATI AND DENGU(Lentil): Flat bread and lentil served with collard greens or fried plantain.
MATOKE AND BLACK-EYED PEAS:Green bananas, cooked and mashed. Served with your choice of rice.
IRIO AND VEGETABLE CURRY SAUCE: Served with collard greens or fried plantain.
SOUTH AFRICAN VEGETABLE BIRIYANI:Aromatic seasoned rice mixed with peas, carrots and beans. Served with red beans.
MMMMmmm….don't it make your mouth water?
Wilson got a stewed beef and potato dish. But he tried some of mine and said he's getting that dish next time fo sho!! Pshhhhhhhhhht. Bettah recognize yo. Yep, I guess that dish would be considered a "carnivore converter." Damn…yeah I know I'm cheesy, but I've accepted it, and now so should you.
Anywho, give Ngoma a shot!! It's really one of those rare gems of a restaurant; tasty food, reasonable/cheap price, super nice, helpful people, and a chill atmosphere. What more could you ask for? Not much, I'd say. And if you read other reviews about the place, seems to be one of the most authentic [vegetarian and vegan] African cuisines around! Holllllllllllllla.
Ngoma is located at:
5358 Wilshire Blvd., Los Angeles, CA 90036.
Cross Street: Detroit Avenue
Telephone: 323-934-1595
Fax: 323 934-1565
Opening Hours:
Tue.-Thu., 11AM.-10 PM
Fri. 11:00 am-11:00 PM
Sat. 12 Noon AM.-11 PM
Sun.12:00 Noon- 7:00 PM
$6.99 Lunch Special is served from 11:00 AM to 2:30 PM, Tuesday through Friday.