Posted by k.o on February 29, 2008 ,
29 Comments
So a few weeks ago, Wilson and I decided to venture out to a new vegan/vegetarian restaurant, which is always awesome since there aren't a million vegan/veggie places. Don't get me wrong, LA has a plethora of vegan and vegetarian restaurants, and it's often times a shitload more than most places. But hey, we've been around the block a few times in regards to the restaurants in our vicinity. So again, needless to say, it was a cause for excitement. I took a lot of pictures this time, so got loads of food porno pics for ya'll.
So we checked out this restaurant called Cinnamon, which is located in Highland Park, a little north of downtown LA. This restaurant was completely phenomenal. Really. All of the cuisine is vegetarian and vegan Mexican food, and from the look of the restaurant, which had a bit of a Mom-n-Pop type feel, and from the taste of the food, you could tell you were eating some truly authentic and delicious vegan Mexican food! We aren't the only ones to think so either! Ahhhh!!! I was in heaven…Mexican food was/still is one of my favorites. It's just so damn tasty, how can you not like it? Oh, and the owners and workers were all super sweet and very accommodating. They can also make things specially tailored for you and your palate. Awww.
So we started off with this lovely and creamy soy horchata…yummmmmm. Why are horchatas so BOMBeeezy? And they complement the spiciness of the food so well too.
We also started off with…you guessed it…quesadillas!! Well we ordered the faux carne asada quesadillas, but out came the spinach and mushroom ones, and we were way too famished to even notice or care. They were superb by the way. Really, the best I've had, better than any other ones I said I've liked. AND, our waitress felt so bad that she mixed up our order, she brought us a plate of the faux carne asada!! DUDE. You HAVE to try their faux carne asada…holy crap…I thought it was real meat there for a second. It was soooo good.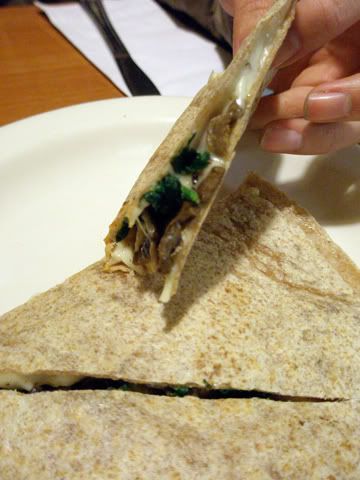 Oh, just as a note, the quesadillas automatically come out as vegetarian ones, so you have to be sure and specify that you want soy cheese, if that's what floats your boat.
So for the main entree, I ordered the soyrizo and brown rice plate, since I was craving something mean and hearty. I was not let down at all. Not only was it mean and hearty, it was DAMN tasty. Like tastier than tasty. Look at that monster of a plate!! I could be full for 2 days! Well not really. But it was awesome. Wils was even a bit jealous and ate a lot off my plate. It was cool though because it was like nostalgia/comfort food for him, but vegan style comfort food. I actually had never even tasted real chorizo. Oh well! Cinnamon's soyrizo really did me gooood…and now I don't even feel like I missed out on anything. Wooooot.
This was Wilson's plate..it was a vegetarian enchilada in mole sauce..sooo divine. Mole sauce is not really even my thing. But this place done did it. It was fantastic. We really can't wait to go back again, because there were so many other enticing options on the menu! We were totally rubbernecking and gawking over the other tables' orders.
Jeez, if these pictures aren't making you salivate yet, then…I don't know. You just better go there soon. If not for the AMAZING food, then for the pleasant, sweet and genuine atmosphere and service.
Cinnamon Vegetarian Restaurant is located at:
5511 N. Figueroa Street
Highland Park, CA 90042
+1 323 982 9480
Open 7 Days a Week
www.cinnamonvegetarian.com