Posted by k.o on March 9, 2008 ,
8 Comments
So I have a new fling: Flax seed whole wheat pasta. It's fantastic. I love it!! Not that pastas generally have much flavoring at all, but this one really stands out to me. I think because the texture is much thicker and heartier than most pastas, and so it really hits the spot. And also for that same reason, it is really easy to have whatever pasta you make, al dente. Al dente every time! If you don't like your pasta al dente, all you have to do is cook it longer. Easy as pie.
So needless to say, that's what I've been brewin up in my kitchen. Thank god vegan pasta recipes are so easy huh? So I've just been experimenting with a variety of sauces and ingredients to spice things up.
So actually, this dressing pictured above is effin' amazing. Not only is it au naturel, it's vegan as well! Hard to believe with dressings these days. But low and behold, it hails from none other than Northern California, another place I'd consider quite the hippyville. I love NorCal!! Why do they have the best ishhhh?! Anyway, Wilson's sister brought this down from her last trip up north. And apparently you can't get it NO WHERE but there. It is deeeeeelish. She brought back about 10 bottles. Oh yeah. It's some good shit right there. So what I did was added a little bit of this dressing to my mish mash of sauce for the pasta…and it was gorgeous. Just a little bit, and it gives it a really creamy and almost nutty hint of flavor.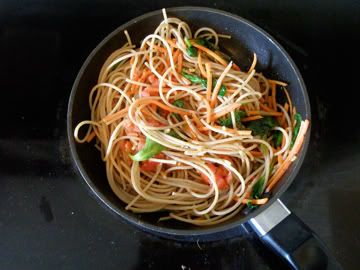 An awesome trick that I learned about pasta came from Vinh. Well, so after you finish cooking the pasta, everyone knows you strain it and then pour some room temperature water over it so that the pasta stops cooking. But THEN, after it's cooled down a bit, you have to throw it back into the pan and cook it together with the sauce and everything else, thus it stays nice and hot, and also the sauce gets around everywhere and it just tastes better. Maybe you all knew that before, but I sure as hell didn't. I'm a grasshopper when it comes to cooking.
Well anyway, the flax seed pasta and the poppyseed dressing are AWESOME. So try and git yer hands on some if you can. It's e-Z vegan/vegetarian fixin's and oh so delicious.