Posted by k.o on September 29, 2008 ,
3 Comments
Damn I'm cheesy.  But you love it!!!!???  Well anyway, as the title indicates, yes indeed, today I will be rappin' with you about a little, but oh so delicious, vegan meal/vegan snack that uses these wonderful things called soy wrappers.  These wrappers are fantastic.
Wooooooo!!!  There's an assortment of different flavors all within one pack: tumeric yellow, sesame, paprika orange, original, and spinach green.  It's truly, a party in every package.  And like it says right there on the package, it's vegetarian friendly.  These are great for anything at all…let your imaginations run buck wild with this things. Veggies, your favorite faux-meats, sweets, and whatever your hearts desire. [Not exactly recommending filling them with sweets, but hey, could be interesting, if that's your bag, baby.]  Also, these soy wrappers are truly wonderful if you have parties and need some vegan/veggie appetizers that are beautiful, easy, and delicious.  You can buy these babies from the Japanese supermarket, if you have one in your area.  However, I think you might also be able to get them at such grocery stores as Whole Foods, or perhaps even Ralphs, if you go to the international aisle.  Don't take my word for it, but I think it might be possible…especially since most grocery stores are seemingly trying to expand their horizons, in terms of ingredients they offer.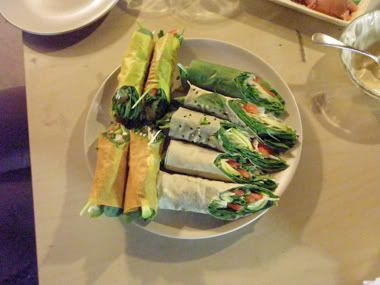 Yeah just look at these beauties!  My friend Ginger made these wrappers for us one night.  Ain't she sweet?!  Also, she does a really great job at making them look purrrrty.  All that is in these particular wraps are: spinach, avocados, tomatoes, and cucumbers.  They were so good, and so refreshing too!  Perfect for when you want to eat lightly.  She paired the soy wrappers with a tantalizing, yet easy vegan dipping sauce as well.
The sauce contains: veganaise [all hail veganaise!!!], some wasabi, a little soy sauce, a dash of sesame oil, and a few sprinkles of hot oil.  Bada bing, bada boom, you're done!  So simple. Feast and be merry.