Posted by k.o on November 30, 2007 ,
2 Comments
If you live in L.A., and you're vegan or even just vegan friendly…then you know what I'm talkin 'bout!!!! That's right….PURE LUCK baby!!!!!!!! Seriously, I think it's one of the best vegan spots in the city of angels. DAMN. Me and my boo are addicted. It's super fresh, clean and tantalizing vegan food!!!! And it's cute inside too, with a nice, friendly vibe. And if you are a beer person, then by all means, give this place a go go. Their ales are some of the best in town, so says a lot of my beer drinking friends.
Where do I start?????
Okay, here's the addy so you can hurry up and try it like, yesterday:
707 N Heliotrope Dr
Los Angeles, CA 90029
(323) 660-5993
Holla!!! Eastside in the hizzy. Sorry all you Westsiders…but you know what, I'm envious of you guys because you have so many options!! And a shitload of natural foods markets. I could probably devote about 20+ entries to places that are on the Westside that I adore. But anyway, I digress.
PURE LUCK. Dear lord. Okay I really need to start taking the to go menus so I can accurately describe the scrumptiousness of all these wonderful vegetarian and vegan dishes that I'm teasing all of you with. Maybe a picture will help?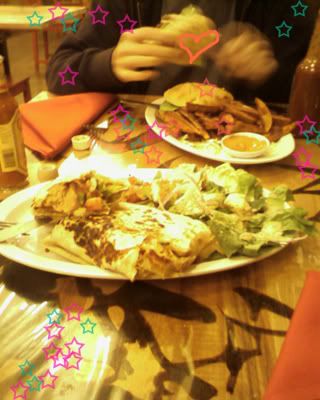 Okay, these pictures from my camera phone absolutely do not do the food justice. Anyway, so tonight, I was feeling particularly ravenous, and I chose the hefty vegan burrito. Hot damn. I don't think Mexican food has ever tasted this good. So this sucker was LARGE. I'm talkin like larger than my arm yo. It was filled with yumminess:
rice
pinto beans
sauteed and flavored JACKFRUIT "CARNITAS"
freshly sliced avocado
sliced tomatoes and cabbage
It came with fresh, home made salsa and a side of vegan Ceasar salad. I was practically inhaling it right when I got it. I had to restrain myself so I could take a good picture of it. Obviously, the magic ingredient was the wondrous jackfruit "carnitas." Man, oh man. It's so seemingly random! Jackfruit?! Of all fruits/vegetable you could have thunk up…I did not see that one coming. But it's totally amazing. The texture and the seasonings and just everything about it really imitated carnitas; which was a welcomed treat for my carnivore boyfriend's sake.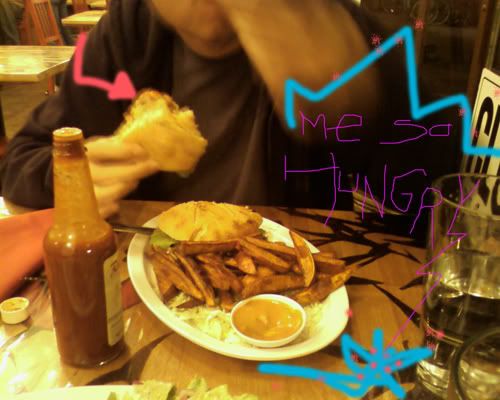 Anyway, please do yourselves a favor and GO to PURE LUCK por favor!!