Posted by k.o on January 22, 2008 ,
1 Comment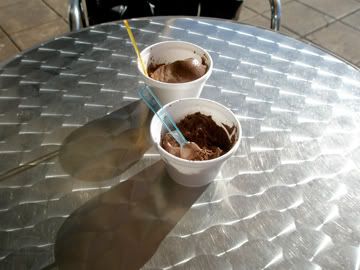 The other day, my friend Remi and I made a trip down to Scoops in the ambiguous part of town…Melrose + Heliotrope, a.k.a "Silverlake adjacent." That place is like an oasis of vegan-friendly, cute, youngish, hip[ster?]-friendly shops, restaurants and stores in the midst of run down, shady looking stretches of city blocks. It's actually really fantastic. It's right where PURE LUCK is located! In fact, Scoops is right across the street from Pure Luck. Talk about convenience! AND also, that's just what most people do! A super fresh vegan meal at PL, then to Scoops for something sweet for all you vegans with sweet tooths!
Scoops is a adorable and quaint family-owned ice cream shop. It just so happens to be one of the few ice cream parlors on the Eastside of LA that has vegan-friendly flavors! Needless to say, I think most vegans on this side of town think Scoops is an oasis of sorts as well. The owner, Tai Kim, a.k.a "The Emperor of Ice Cream," allegedly wakes up early every morning just to make the freshest, creamiest and most exotic ice cream flavors in LA. I don't know if that's just word on tha streetz or what, but I'll tell you what, SCOOPS' [vegan] ice cream is off tha chain!!! Scoops really has all the local customers/fans/business on lock because of the incredible quality of the ice cream.
It's such a nice treat to be able to go out and get ice cream whenever the mood strikes, instead of buying cartons at a time. Also, like I said before, the flavors are all so unique!! The day Remi and I went, we got a super satin-y Dark Chocolate and hazelnut vegan ice cream. But lots of times they have flavors like Balsamic Vinegar and Strawberry, Ginger and Black Sesame, Cinnamon Pumpkin…and these are just his vegan flavors!! He has tons of sorbets like Jackfruit and lychee, Mango, etc. And I hear his non-vegan flavors are mind-blowing as well!